Smile On
RajKumar Ghorai Story

I am Rajkumar Ghorai would like to share my experience in connection with Noapara Vivekananda Welfare Society that, I had taken the ICICI Prudential Life Insurance the product namely Smart Kid New Linked RP in the month of Oct 2007 with the following benefits as intimated by ICICI:-

(a) A policy holder has to pay minimum three premium for a period of three years @ Rs 15,000/- for each year through the policy was for a total period of 16 years from the date of issue.
(b) In return the policy holder will get 100% benefit as per the existing market value after completion of five years of policy through the policy holder stops to pay the premium after consecutive three years from the date of issue of policy.
In this connection, I had paid for three years totaling amount of Rs 45,000/-. ICICI Bank intimated me by their letter that, my above policy has been foreclosured wef 11 Oct 11 and issued me a cheque of Rs 11,116/-. On receipt of the same immediately I visited the nearest ICICI Branch located at Dumdum Road, Kolkata -700074 for clarification on my policy.
On my query, the branch informed me that my third premium installment has not been received and hence the policy has been foreclosed and as per the terms and conditions of the policy the Bank had returned only the 40% of the total premium paid.
I handedover the copy of my passbook page in which the amount of Rs 15,000/- for the third premium has debited from my bank account as a proof. But no fruitful results was given to me by the ICICI and create a vacuum in this policy to make my payment. As being a defence person I have limited time and never seen this like crises.
5. Then this critical lapse I approach to Noapara Vivekananda Welfare Society and they proper helping me which was very appreciable. They advised to take up a case with District Consumer Forum.
I feel proud to inform that the complaint lodged by me through Noapara Vivekananda Welfare Society against the ICICI Prudential Life Insurance has been resolved within a very short span of time with the great efforts, prompt action and also with the intervention of Shri Raju Some, Secretary of Noapara Vivekananda Welfare Society. The payment of Rs 46,000/- was given to me by ICICI as priority case.
In this connection I convey my whole hearted thanks to all the team of Noapara Vivekananda Welfare Society involved in doing speedy and needful action to clear this crises.
Kashinath Samanta Story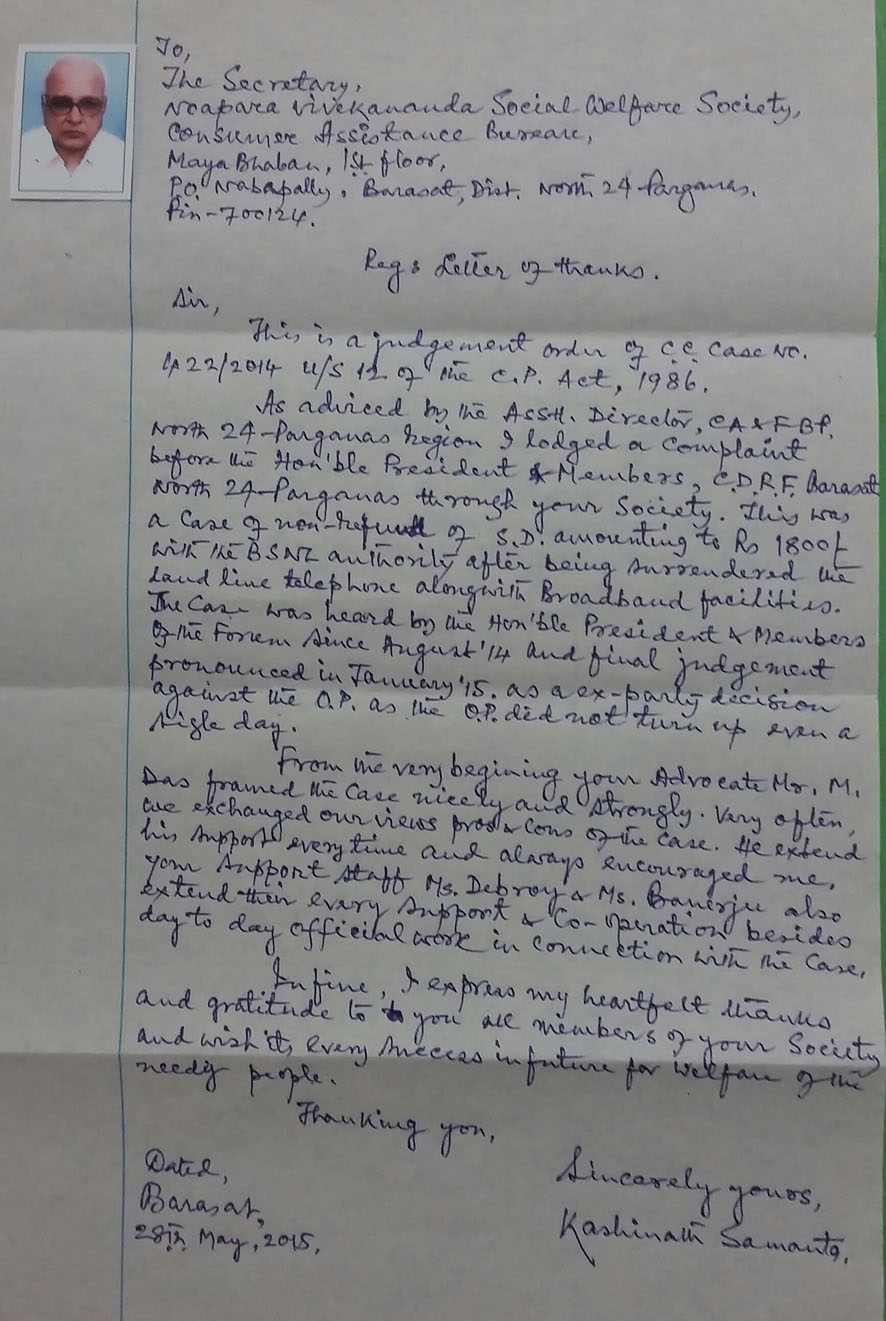 Swapan Kumar Mondal Story
Joydev Kumar Ghosh Story